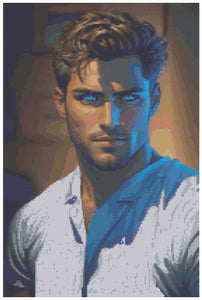 Come Hither Diamond Painting Kit by Art by Sals
SKU:
1-AHHComeHither-1
Secured & Safe Checkout :

Details:
Full drill, square
15 x 22 inches
52 colors
Poured glue
Artist canvas
Tool kit includes tray, pen, wax, and tweezers

Skill level: Intermediate
Introducing "Come Hither," the mesmerizing diamond painting kit that captures the essence of allure and charm in every sparkling detail. Immerse yourself in the world of artistic seduction as you bring to life the portrait of a handsome man with piercing blue eyes, his gaze locked onto the object of his desire.

This exquisite diamond painting kit is more than just a craft—it's a journey into the realm of captivating beauty. With precision-cut, high-quality diamonds that shimmer like the twinkle in his eyes, each carefully chosen hue enhances the depth and intensity of the portrait. As you place each diamond, you'll witness the mysterious allure of the come hither look emerging, drawing you into a world of enchantment.

The "Come Hither" diamond painting kit is perfect for intermediate to experienced crafters, providing a therapeutic and rewarding experience. The canvas is expertly printed with fine details, guiding you effortlessly through the process. Lose yourself in the rhythmic dance of placing diamonds, and watch as the handsome man's gaze comes to life, inviting you to explore the world of desire and connection.

This kit includes all the essentials you need for a seamless crafting experience: premium diamonds, a high-quality canvas, a comfortable applicator pen, and an easy-to-follow guide.  "Come Hither" promises an enchanting and fulfilling project that will leave you with a stunning masterpiece worthy of admiration.

Indulge your creative senses and embark on a journey of passion with the "Come Hither" diamond painting kit—a work of art that transcends the boundaries of ordinary craftsmanship. Bring desire to life, one diamond at a time.
 Return policy
Customers have up to 30 days to ask for a refund
A Return Merchandise Authorization (RMA) must be requested
Product must be in it's original condition and in original packaging. Photos must be provided of product before it is shipped back. If stating that the product is damaged, photos must be provided of the damage.
Customer will be responsible for return shipping (with exceptions)
Refunds are credited back to customers' Visa, MasterCard or American Express credit/debit cards