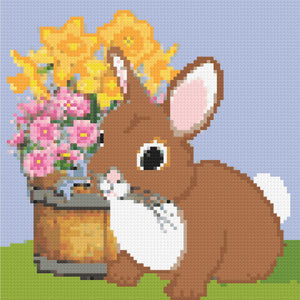 Bunniekins Diamond Art Painting Kit - Art by Sals
SKU:
Bunniekins 1
Secured & Safe Checkout :

Introducing the captivating "Bunniekins" Diamond Painting Kit! Experience the joy of springtime as Bunniekins, our adorable bunny friend, enjoys in a lush container garden filled with vibrant flowers. This delightful kit combines the art of painting with the brilliance of diamond gems, resulting in a mesmerizing masterpiece that will dazzle your senses.
Unleash your creativity and dive into the world of diamond painting with this enchanting design. Each kit includes a high-quality canvas featuring a precisely printed image of Bunniekins surrounded by a bountiful array of blooming flowers. With its intricate details and vivid colors, this artwork will capture the essence of a beautiful spring day.
The "Bunniekins" Diamond Painting Kit is designed for both beginners and seasoned crafters alike. It offers a relaxing and immersive experience that will transport you to a serene spring day. Unwind from the demands of daily life as you pick up the diamond applicator and place the shimmering stones onto the canvas. The therapeutic process of diamond painting allows you to embrace mindfulness while creating a stunning work of art.
Crafted with precision, the canvas is made from premium materials that ensure durability and longevity. The adhesive surface securely holds the sparkling diamonds in place, preventing any accidental shifts or spills. Every kit comes with a wide range of color-coded diamonds, each shining brilliantly under the light, ready to be placed onto the canvas. The included diamond applicator and tray make it easy to handle the diamonds with precision and efficiency.
The "Bunniekins" Diamond Painting Kit is not only a source of creative fulfillment but also a coloful décor piece once completed. Display your finished artwork in a frame or on a stretch bar to add a touch of elegance and charm to any room. Your masterpiece will become a conversation starter, captivating all who view it.
Whether you're an avid artist or someone seeking a therapeutic hobby, the "Bunniekins" Diamond Painting Kit promises hours of enchantment and relaxation. Immerse yourself in the joys of spring as you bring this adorable bunny and its blooming container garden to life, one dazzling diamond at a time. Order your kit today and embark on a creative journey filled with beauty, tranquility, and the magic of diamond painting.
Details

Full drill, round
10 x 10 inches
50 colors
Poured glue
Artist Canvas
Skill level: Beginner
Artwork by Sals
 Return policy
Customers have up to 30 days to ask for a refund
A Return Merchandise Authorization (RMA) must be requested
Product must be in it's original condition and in original packaging. Photos must be provided of product before it is shipped back. If stating that the product is damaged, photos must be provided of the damage.
Customer will be responsible for return shipping (with exceptions)
Refunds are credited back to customers' Visa, MasterCard or American Express credit/debit cards