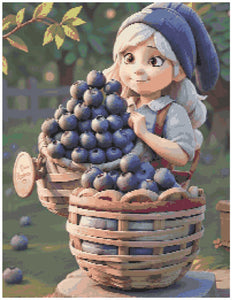 Beatrice Diamond Painting Kit by Art by Sals
SKU:
1-AHHBeatrice-1
Secured & Safe Checkout :

Details: 
Full drill, Round
22.5 x 29.5
50 colors
Poured glue
Artist canvas

Tool kit includes tray, pen, and wax

Skill level: Intermediate
Introducing "Beatrice" Diamond Painting Kit – a masterpiece capturing the serene beauty of a day spent in the bountiful blueberry fields. Immerse yourself in the charm of Beatrice's fruitful harvest with this captivating diamond painting kit, designed for intermediate-level enthusiasts who crave a touch of artistry in every stroke.

🌟 Kit Highlights:
✨ Intermediate Level: Perfect for those with a knack for diamond painting, the "Beatrice" kit offers a moderate challenge, making it an ideal project for those looking to elevate their skills and create a stunning piece of art.

✨ Dimensions: Measuring an impressive 22.5 by 29.5 inches, the canvas provides ample space for intricate details, ensuring that Beatrice's blueberry-picking moment is brought to life with precision and grace.

✨ Rich Color Palette: Dive into a world of vibrancy with a palette of 50 carefully curated colors. Each shade has been meticulously selected to capture the nuances of the sun-kissed blueberries, Beatrice's radiant expression, and the warm glow of the setting sun.

✨ Premium Canvas: The canvas is crafted from a high-quality blend of cotton and polyester, ensuring durability and a smooth surface for precise diamond placement. This artist canvas provides the perfect foundation for creating a dazzling, long-lasting masterpiece.

✨ Heartwarming Scene: Immerse yourself in Beatrice's world as she gazes off into the sun, baskets brimming with plump blueberries. Feel the satisfaction of a day's hard work and take pride in the beautiful fruits of her labor, all while adding your personal touch to this heartwarming scene.

✨ Therapeutic and Rewarding: Beyond the beauty of the final product, diamond painting is a therapeutic and rewarding hobby. Spend your leisure hours indulging in the rhythmic placement of diamonds, and watch as your creation comes to life with each meticulous detail.

Unleash your creativity and embark on a journey of artistic expression with the "Beatrice" Diamond Painting Kit. This kit is not just a craft project; it's an opportunity to create a timeless piece that captures the essence of a fruitful day on the blueberry farm. Elevate your diamond painting experience with Beatrice and let your artistic spirit shine!
 Return policy
Customers have up to 30 days to ask for a refund
A Return Merchandise Authorization (RMA) must be requested
Product must be in it's original condition and in original packaging. Photos must be provided of product before it is shipped back. If stating that the product is damaged, photos must be provided of the damage.
Customer will be responsible for return shipping (with exceptions)
Refunds are credited back to customers' Visa, MasterCard or American Express credit/debit cards