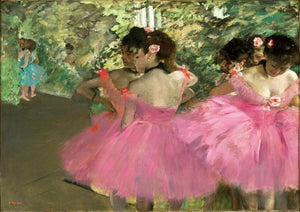 Dancers in Pink by Edgar Degas Diamond Art Painting Kit
SKU:
1-round-287--9
Secured & Safe Checkout :

Dancers in Pink by Edgar Degas, 1880 to 1885
Introducing the "Dancers in Pink" Diamond Painting Kit by Edgar Degas! This beautiful diamond painting is the perfect way to bring the grace and elegance of Degas' iconic dancers to life.
Each kit includes high-quality resin drills in a variety of sparkling pink hues, as well as a pre-printed sticky canvas that makes it easy to create the final masterpiece. The kit also includes a stylus and tweezers, so you can get started on your diamond painting journey right away.
With its intricate design and stunning color scheme, "Dancers in Pink" is sure to become a beloved piece in your diamond painting collection. As you work on placing each individual drill, you'll feel a sense of relaxation and accomplishment as you watch your painting come to life. Whether you're a seasoned diamond painter or a beginner, this kit is sure to provide hours of entertainment and creativity.
So why not add some color and beauty to your home with the "Dancers in Pink" Diamond Painting Kit by Edgar Degas? Order yours today and experience the calming, meditative effects of this stunning art form!

Original details

Your Masterpiece

61 cm x 75 cm

Full drill

Medium: Short lint canvas, poured glue, and resin diamonds

60 drill colors

AB diamond drills to sparkle up your day

Tool kit includes: drill tray, drill pen, tweezers, and wax

Frame not included
Level of difficulty - advanced
Diamond painting kit for adults
Degars is best known for his paintings of ballerinas. His works include the dancers in various stages of relaxation, preparation, and dance. About half of his work is on the subject of dance.
This kit was made in China. Ships from Massachusetts.
Dancers in Pink can be viewed at the Hill-Stead Museum, Farmington, CT

This work is in the public domain in its country of origin and other countries and areas where the copyright term is the author's life plus 100 years or fewer.

This work is in the public domain in the United States because it was published (or registered with the U.S. Copyright Office) before January 1, 1925.
 Return policy
Customers have up to 30 days to ask for a refund
A Return Merchandise Authorization (RMA) must be requested
Product must be in it's original condition and in original packaging. Photos must be provided of product before it is shipped back. If stating that the product is damaged, photos must be provided of the damage.
Customer will be responsible for return shipping (with exceptions)
Refunds are credited back to customers' Visa, MasterCard or American Express credit/debit cards