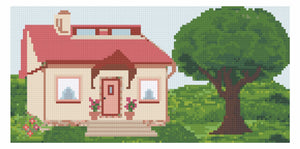 Cottage Meadows Diamond Art Painting Kit - Art by Sals
SKU:
Cottage Meadows 1
Secured & Safe Checkout :

Introducing the "Cottage Meadows" Diamond Painting Kit, where tranquility meets artistic expression! Step into a world of rustic charm and natural beauty with this captivating kit that captures the essence of a serene countryside scene. Immerse yourself in the idyllic imagery of a quaint cottage nestled at the base of a lush grassy hill, sheltered by a majestic tree, and surrounded by a vibrant flower garden.
With its meticulous details and vibrant colors, the "Cottage Meadows" design transports you to a place of peace and harmony. Each kit features a high-quality canvas adorned with a precisely printed image of the enchanting cottage, its surroundings, and the bountiful blooms that grace the landscape. This picturesque scene serves as your artistic playground, awaiting your creative touch.
Suitable for beginners and experienced crafters alike, the "Cottage Meadows" Diamond Painting Kit offers a therapeutic and immersive experience. Let your worries melt away as you embark on this soothing journey. Using the diamond applicator, pick up the dazzling resin rhinestones and place them with precision onto the adhesive canvas. The rhythmic process of diamond painting allows you to unwind, rejuvenate your mind, and unleash your inner artist.
Crafted with utmost care, the "Cottage Meadows" canvas is made from premium materials that ensure durability and longevity. The sticky adhesive surface secures the sparkling diamonds in place, eliminating any concerns of accidental displacement. Each kit comes with a diverse range of color-coded diamonds, each one shining brightly under the light, eagerly awaiting their place on the canvas. The diamond applicator and tray included in the kit make it easy to handle and organize the diamonds for a seamless and enjoyable painting experience.
Once completed, the "Cottage Meadows" Diamond Painting Kit transforms into a stunning work of art that exudes elegance and charm. Display your masterpiece in a frame or on a stretch bar to showcase the intricate details and the brilliance of the diamonds. Adorn your living room, bedroom, or any space with a touch of rustic allure, and let the tranquility of the countryside captivate your surroundings.
Indulge in the beauty of nature and awaken your artistic soul with the "Cottage Meadows" Diamond Painting Kit. Whether you seek a creative outlet, a way to unwind, or a delightful gift for a loved one, this kit promises to enchant and inspire. Immerse yourself in the peaceful serenity of the countryside and create a breathtaking artwork that reflects the essence of rustic bliss. Order your kit today and embark on a journey of artistic fulfillment and relaxation that will leave you yearning for the simplicity of Cottage Meadows.
Details: 
Full drill, round
8 x 15
28 colors
Poured glue
Artist Canvas
Skill level: Beginner
Artwork by Sals
 Return policy
Customers have up to 30 days to ask for a refund
A Return Merchandise Authorization (RMA) must be requested
Product must be in it's original condition and in original packaging. Photos must be provided of product before it is shipped back. If stating that the product is damaged, photos must be provided of the damage.
Customer will be responsible for return shipping (with exceptions)
Refunds are credited back to customers' Visa, MasterCard or American Express credit/debit cards